Company Profile
We M PLUS Group are Professional Manufacturers to Various Industry Segments like Aerospace, Automotive, Capital Goods, General Engineering, Oil & Gas, Steel & Pipe Mills, Mining and Power & Energy Sectors.
It boasting nearly 15 years' experience in this Market & Created Milestone and reputation in well-known OEMs from Worldwide, organised by vast experienced young dynamic technocrats.
We are Handling Small to Big size Soft & hardened tooling , Heavy Precision Components As well as Various Fixtures for our clients.
A set of normative instructions in the process of Engineering, We are Having In-house Design Facility which forms Concept to 3 D model, Model to Component using CAD,CAM,CAE techniques & Using software's Solid works, Cimatron, Delcam ,Auodesk 360 with full capable workstations and advance IT infrastructures & Skilled Manpower
The most up-date modern Machining Infrastructure, and around 65000 Sq. feet Work Space, we are equipped with high speed CNC Vertical Machining/Turning Centres , Heavy Precision CNC Double Column Machining Centres with size 3000mm X 2100 mm X 768 mm, & 2000 mmX1600 mm 768 mm up to 10 M ton Machining Capability, Precision ZNC EDM 2D/3D, Assembly Set up, also with strong Vendor Base Support For various Special Process.
We are expert in using Steel, Various Exotic Material Alloys, P20, H13, Stavax, alumax, D2 , EN 19,Various Aerospace grade materials & Non Ferrous Also , Using standard components in assembly, etc. Implemented SAP B1 For Overall administration, We also have Set QMS ISO 9001- 2008 Certifation test of DNV and have a set of strict inspection criteria to guarantee the quality.The goal of our company is to make every Tooling the best, to satisfy every customer.
In addition to practical experience, engineering expertise, and company resource, we believe that service is another vital value we bring to the customers. We strive to be your reliable business partner and to try to help optimise your production cost & Time.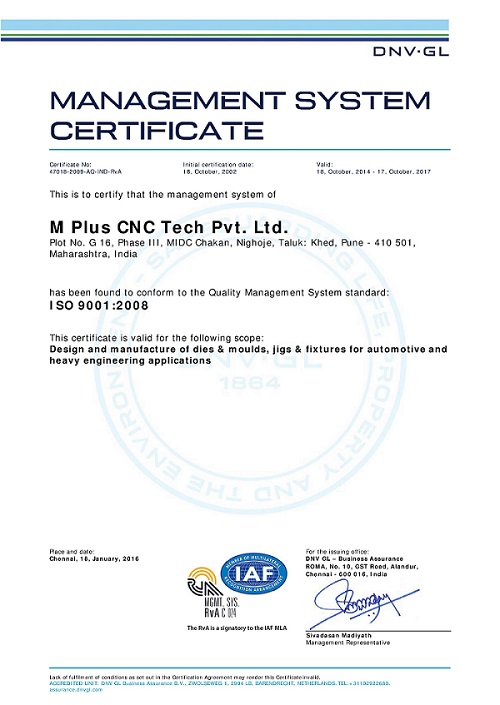 Want to know more about M PLUS CNC TECH PVT LTD
Call as at +91 985 066 3190
---
ABOUT US
WE ARE EXPERT IN USING STEEL, VARIOUS EXOTIC MATERIAL ALLOYS, P20, H13, STAVAX, ALUMAX, D2 , EN 19,VARIOUS AEROSPACE GRADE MATERIALS & NON FERROUS ALSO , USING STANDARD COMPONENTS IN ASSEMBLY, ETC. IMPLEMENTED SAP B1 FOR OVERALL ADMINISTRATION, WE ALSO HAVE SET QMS ISO 9001- 2008 CERTIFATION TEST OF DNV AND HAVE A SET OF STRICT INSPECTION CRITERIA TO GUARANTEE THE QUALITY.THE GOAL OF OUR COMPANY IS TO MAKE EVERY TOOLING THE BEST, TO SATISFY EVERY CUSTOMER.
QUALITY ASSURANCE
ELECTRA –OPTIMA HIGHT MASTER
RANGE OF INSIDE/OUTSIDE MICROMETER
RANGE OF INSIDE/OUTSIDE VERNIER CALIPER
VERNIER HEIGHT GAUGE
INSPECTION GRADED SURFACE PLATES
CMM FACILITY TIE UP
3D INSPECTION WITH FARO ARM
OFFICE ADDRESS
M PLUS CNC TECH PVT LTD
G-16,MIDC,PHASE 3, NIGHOJE, CHAKAN, TAL KHED,PUNE 410501
info@mpluscnctech.com
sales@mpluscnctech.com
purchase@mpluscnctech.com
accounts@mpluscnctech.com
design@mpluscnctech.com
quality@mpluscnctech.com
cam@mpluscnctech.com